Tyler Mire Big Band


P.C. Graham Gerdemann
The Tyler Mire Big Band had its start in Dallas, TX where the band's debut album, "Enter the Atmosph-Mire" was released to high acclaim.
Now the Tyler Mire Big Band has a new home in Nashville, TN the "Music City." Assembling a band of Nashville's finest jazz and session musicians, Mire has been infused with a new creative spirit. The compositions of his band range from straight ahead swing, groovin' funk, ethereal modern jazz, and blistering latin. Mire's influences include Thad Jones, Rich DeRosa, Alan Baylock, Sammy Nestico, John Clayton and others.
The band's newest CD "#Officefortheday" contains 8 new original compositions featuring the band on a variety of styles and tempos. The CD appears on Ear Up Records and is available on CDBaby, Itunes, Amazon and all other digital music outlets.
Note: All CDs include cost of shipping. I will mail you a signed copy, and upon receipt of your purchase you will be able to download the digital files! Continental US purchases only please!
CDs:
---
2017 – Tyler Mire Big Band: "#Officefortheday" $15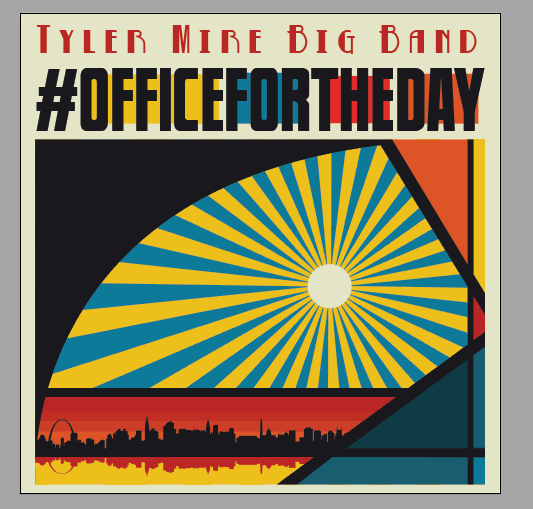 Digital Booklet
Listen here
Track Listing:
1. Spice of Life (Mire)
Roy Agee (Trombone), Steve Patrick, Andrew Golden (Trumpets), Jeff Coffin (Flute), Joshua Hunt (Drums and Percussion)
2. The Arch (Mire)
Lindsey Miller (Guitar)
3. Elephant in the Room (Mire)
Roy Agee, Roger Bissell, Oscar Utterstom, Barry Green (Trombones)
4. #Officefortheday (Mire)
Jim Williamson (Trumpet), Lindsey Miller (Guitar), Doug Moffet (Tenor), Oscar Utterstrom (Trombone), Joshua Hunt (Drums)
5. The Lonely Crouton's Big Day in NYC! (Mire)
Jim Williamson (Flugel), Roger Bissell (Trombone)
6. Magma Sanctum (Mire)
Matt Endahl (Piano), Evan Cobb (Tenor)
7. Green and Blues (Mire)
Barry Green (Trombone), Matt Endahl (Piano), Steve Patrick (Trumpet), Robby Shankle (Clarinet)
8. DoMo Meets the Brunch King (Mire)
Doug Moffet, Evan Cobb (Tenors)
---
2015 – Tyler Mire Big Band: "Movin' Day" $15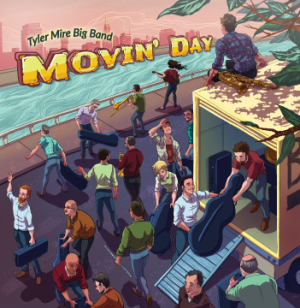 Digital Booklet
Listen here
Pulin 4 Jazz Movin' Day Interview
Track Listing:
1. New Nashville (Mire)
Doug Moffet (Tenor), Oscar Utterstrom (Trombone)
2. Vibes (Mire)
Matt Endahl (Piano), Don Aliquo (Alto), Jim Williamson (Trumpet)
3. Movin' Day (Mire)
Roy Agee (Trombone)
4. Sapphire (Miller arr. Mire)
Lindsey Miller (Guitar), Matt Endahl (Piano)
5. Swing, Dammit! (Mire)
Evan Cobb (Tenor)
6. Penny's Waltz (Mire)
Joe Davidian (Bass), Matt Endahl (Piano)
7. Yellow (Mire)
Oscar Utterstrom (Trombone), Joshua Hunt (Drums)
8. Spy Eyes (Mire/Pardo)
Jeff Coffin (Tenor), Daniel Pardo (Flute/Piccolo)
9. Action Jackson and the Magical Disappearing Sock (Mire)
Joshua Hunt (Drums), Doug Moffet (Tenor), Roger Bissell (Trombone), Steve Patrick (Screech Trumpet), Clarinet Section
10. Thoughts
Evan Cobb (Tenor)
11. Call Me MirEby?
Roy Agee, Barry Green (Trombones), Andrew Golden, Jim Williamson (Trumpets), Jeff Coffin (Tenor), Thomas Eby (Trumpet), Joshua Hunt (Drums)
---
2013 – Tyler Mire Big Band: "Enter the Atmosph-Mire" $15


Digital Booklet
Listen here
Track Listing:
1. Mile High Samba (Mire)
Aaron Hedenstrom (Soprano), Drew Zaremba (Tenor)
2. Enter the Atmosph-Mire (Mire)
Alex Cannon (Guitar), Alex Fraile (Alto)
3. Mire-ly a Minor Blues (Mire)
Kevin Swaim (Trumpet), Alex Fraile (Alto)
4. Brush it Off (Mire)
Seth Weaver (Trombone), Justin Heaverin (Drums)
5. Chris is How We Drew It (Mire)
Chris Reardon, Drew Zaremba (Tenor)
6. Days of Wine and Roses (Mancini arr. Mire)
Alex Cannon (Guitar)
7. The Girl from Ipanema (Jobim arr. Mire)
Carl Lundgren, Seth Weaver, Scott Sidway, Alex Blue, Eric Andress (Trombones)
8. Eternal Healing (Mire)
Austin Byrd (Piano), Kelsey Pickford (Bassoon), Chris Reardon (Tenor)
9. C'Mire (Mire)
Austin Byrd (Electric Piano), Aaron Hedenstrom (Alto), Tyler Mire (Trumpet), Justin Heaverin (Drums)